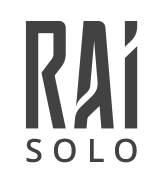 Refined electrodynamic driver with UPM balanced piston membrane motion, encased in a durable and ergonomic sintered steel shell.
"Rai Solo has been at the origin of the entire Rai IEM family so it shares a lot of design philosophy DNA with the flagship Rai Penta. It was supposed to be released ahead of Rai Penta, but we took our time to perfect it for mass production. The result is a high value, yet still affordable, IEM."
UNIFIED PISTONIC MOTION TECHNOLOGY EXCLUSIVE DRIVER
Rai Solo has been born from our vision to offer entry-level audiophiles a solidly built and great value IEM.
Ergonomic design, sturdy stainless-steel shell, refined dynamic driver, all for one purpose: enchanting your senses through a pure listening experience.

In developing the Rai Solo, we looked for a fun-neutral but well refined and controlled sound signature.
The strongest correlation between the Rai Solo and the Rai Penta is the similar shape of the IEM.
The use of Metal Injection Moulding technology for the body of the Solo made it possible to have a very complex inner shape made in mass production with great accuracy.
Wire free diaphragm performing in a symmetric pistonic motion without disturbance from wires.
VIBRATION REDUCTION SYSTEM
Stainless steel is an extremely rigid material, has low resonance and therefore delivers minimum interference to the vibration created by the driver unit. In terms of audio performance, these advantages contribute to a clean and dark background with well-defined imaging.
The specially conceived shell architecture in conjunction with the steel chassis dampens vibration from the driver unit.
METAL INJECTION MOULDING BODY
Anatomic design and highly durable housing for long listening sessions and extended product life.
The surface is raw Stainless Steel individually hand brushed by craftsmen.
DETACHABLE MMCX 1.3M SILVER PLATED CABLE
Industry s

tandard MM

CX sockets which make the cables detachable and replaceable at any time.
MACHINED NOZZLE
Nozzle colour coding: Right is red and left is blue.
ANATOMIC FIT
The more comfortable the IEM the better the listening experience, this is a fact. Serious audiophiles will spend hours on end engaged in their music.
We have designed the RAI series In Ear Monitors to deliver comfort and prolonged listening sessions allowing for a truly immersive experience for you and your music.
Attention to details to an extreme: round, soft edges designed to embrace the natural curves from one's ear and to fit perfectly.
Ergonomics at its best. Pure comfort. Feeling of airiness and seamless fit.
DESIGNED AND DEVELOPED
IN BAIA MARE, ROMANIA
The RAI series designs are grounded in the realities of everyday life.
Our aim is for anyone to find valid options when looking for an IEM to fit their lifestyle.
Solo is opening the RAI family, as an entry-level audiophile IEM born from our pledge of honest design and true audio.​​​​​​​
The Rai Solo works effortlessly with any device due to its low impedance and high sensitivity but to truly enjoy the full potential and advantages of its special driver we recommend the use of a DAP or a DAC if you want to use your phone as a source.
ACCESSORIES:
1.3m MMCX braided cables made of silver plated copper custom wires ending in high quality 3.5mm
Hard Case: protective EVA case with Meze Audio metal logo
3 pairs of soft silicone eartips S, M, L
3 double flanged eartips S, M, L
2 deep insertion double flanged eartips M, L

TECHNICAL SPECS:
Driver: 9.2mm UPM dynamic driver
Diaphragm thickness: 9µm
Impedance: 16 Ohm
SPL: 105±3dB at 1mW/1kHz
Frequency response: 18Hz - 22kHz
Distortion: <1% at 1mW/1kHz
Stock cables: MMCX connector ending in 3.5mm
Warranty period: 2 years